What is the Most Popular Feature in a Kitchen Remodel?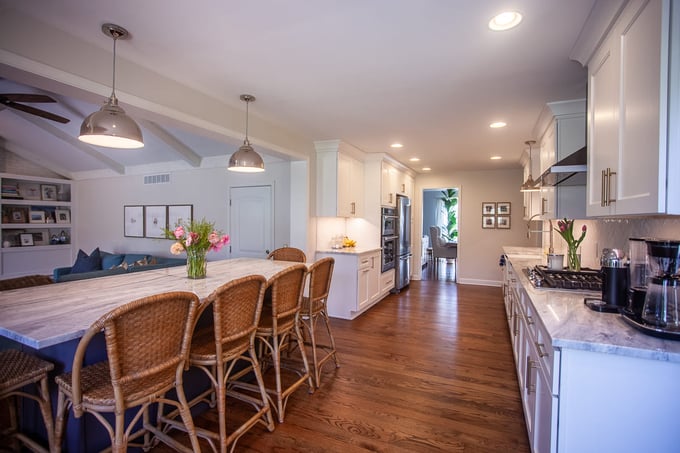 Kitchen remodels undeniably stand out as a preferred choice among home renovations. A minor kitchen remodel boasts a commendable return on investment, transforming spaces both aesthetically and functionally. With an array of unique features to consider during renovation, homeowners often wonder about the most sought-after and innovative features when planning their kitchen remodel.
The Ever-Evolving Kitchen Island
Contrary to fleeting fads, the kitchen island's popularity remains steadfast. These islands not only lend vital counter space but also act as an inviting hub for family gatherings, tailored storage, and multi-purpose prep space. Recently, contrasting color schemes are gaining traction, where island colors diverge from the kitchen cabinets, introducing an element of visual drama. And it's not just about the color; contrasting countertops are also in vogue. Imagine a beautiful granite countertop adjacent to a butcher block island – the perfect blend of style and functionality.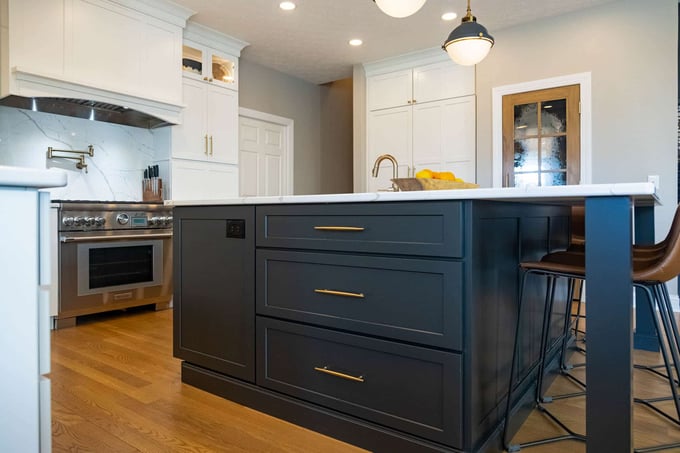 Under-Cabinet Lighting
Illuminate your workspace and add ambiance with under-cabinet lighting. This feature not only enhances the kitchen's aesthetic and ambiance by providing options for illumination, but also ensures functionality and safety, especially during intricate meal preparations where you need to see exactly what you're up to.
Butlers Pantry: A Touch of Luxury
A butler's pantry provides that luxurious edge by extending your kitchen out of sight. This walk-in pantry with prep space offers additional storage and workspace, ideal for those who entertain frequently. This feature has been making a comeback in modern homes, serving as a bridge between the kitchen and dining areas, facilitating smoother service and more space to entertain during large gatherings or parties.
Wondering about the cost of your kitchen remodeling project? Learn more here.
Pendant Lights: The Modern Touch
Modern pendant lights, especially over kitchen islands, have become a staple in contemporary kitchen designs. They not only illuminate the space but also act as statement pieces, drawing the eye and reinforcing the kitchen's overall theme. Choose a cozy glass pendant light for a warm, inviting atmosphere, or go for a bold geometric design to echo a more modern aesthetic. The versatility of pendant lights allows you to mix and match styles, creating a custom look that complements your kitchen's design elements.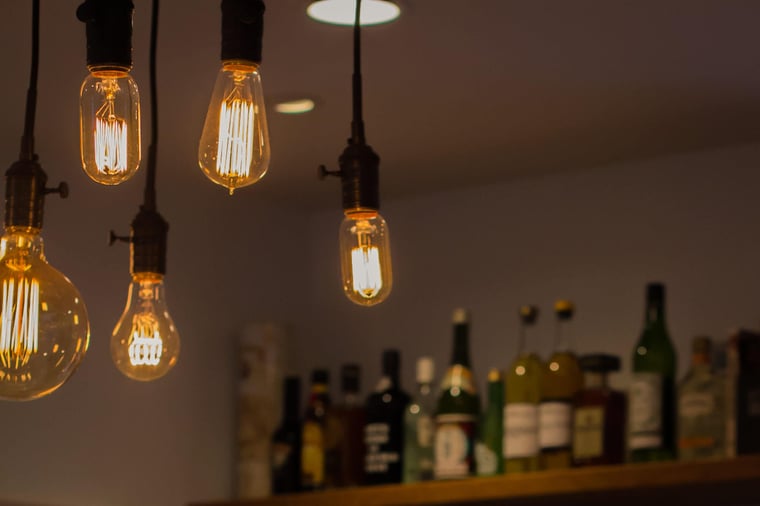 Smart Storage Solutions
Modern kitchens prioritize efficient and personalized storage. From pull-out trays and deep drawers to vertical storage, these features ensure every utensil and appliance has its own space, decluttering your countertops. Implementing such storage solutions not only makes the kitchen appear tidier but also enhances the cooking experience by ensuring everything is within easy reach.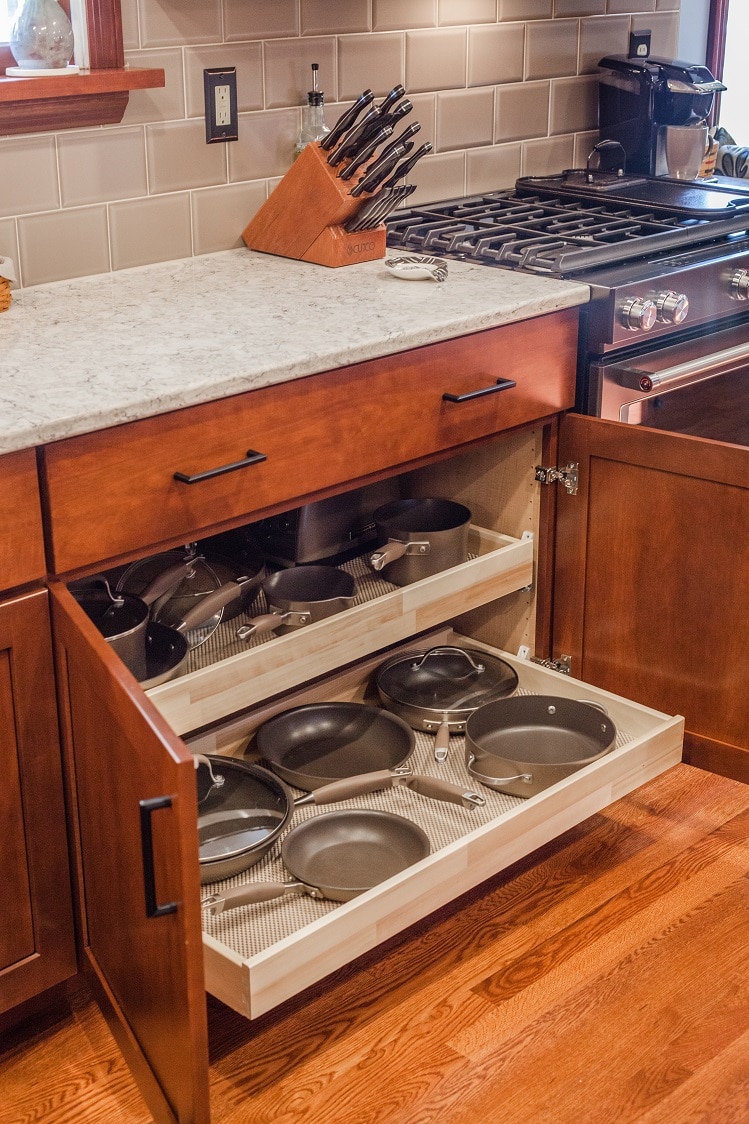 Neutral and Earthy Palettes
Gone are the stark white kitchens with no contrast or accent to offset the glare. Many kitchen renovations feature more neutral, earthy palettes that exude a calming and welcoming ambiance. Creams, soft grays, and muted greens are among the top choices. These tones, paired with natural materials like wood or stone, evoke a sense of tranquility and connection to nature.
Integrated Appliances
The move towards sleeker kitchen designs has amplified the popularity of integrated appliances. Refrigerators, dishwashers, and microwaves are now designed to blend seamlessly with the cabinetry with custom cabinet doors. This creates a cohesive, streamlined look, where the appliances become virtually indistinguishable from the cabinets, adding to the kitchen's overall elegance.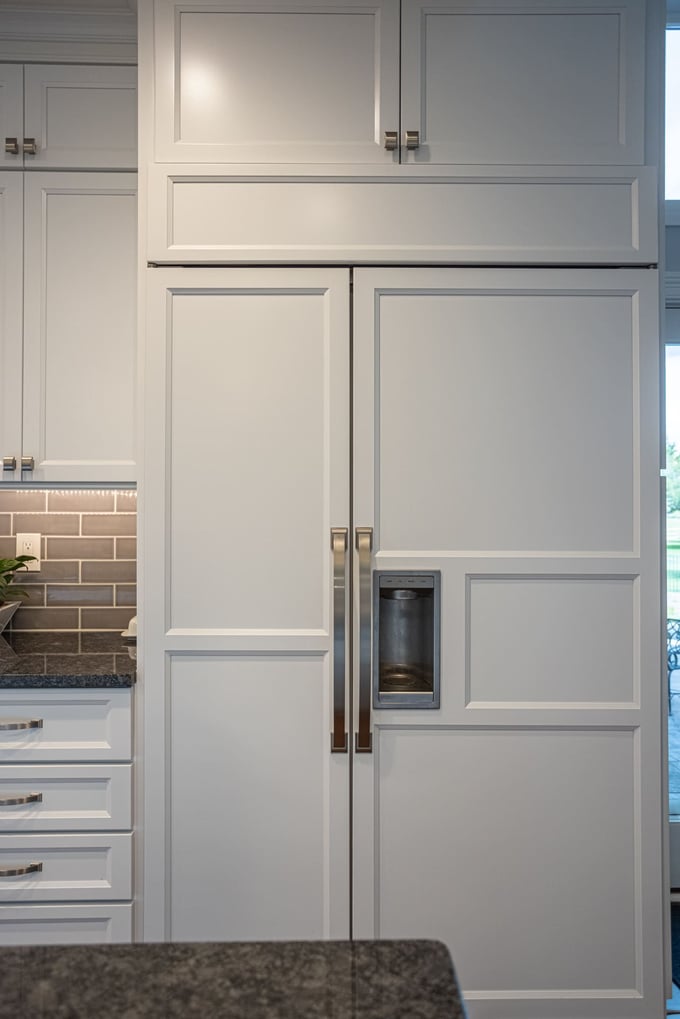 Multi-functional Spaces
The modern kitchen is not just for cooking. With the rise of open floor plans, kitchens often merge with living or dining areas. Breakfast nooks, study corners, or minibars incorporated into the kitchen layout are now commonplace. This shift makes the kitchen a multipurpose hub for eating, working, and socializing.
Sustainable Materials
As homeowners become more eco-conscious, the demand for sustainable kitchen materials has surged. Bamboo countertops, recycled glass backsplashes, and reclaimed wood are just a few examples. These materials are not only environmentally friendly but also introduce unique textures and stories into the kitchen space, making it truly one-of-a-kind.
Touchless Technology
In a bid to make kitchens more hygienic and efficient, touchless are on a steep rise, especially in the last few years. Motion-sensor faucets, voice-controlled lighting, or smart refrigerators that can be accessed with voice commands are revolutionizing the modern kitchen, adding a magical level of convenience to your daily routine.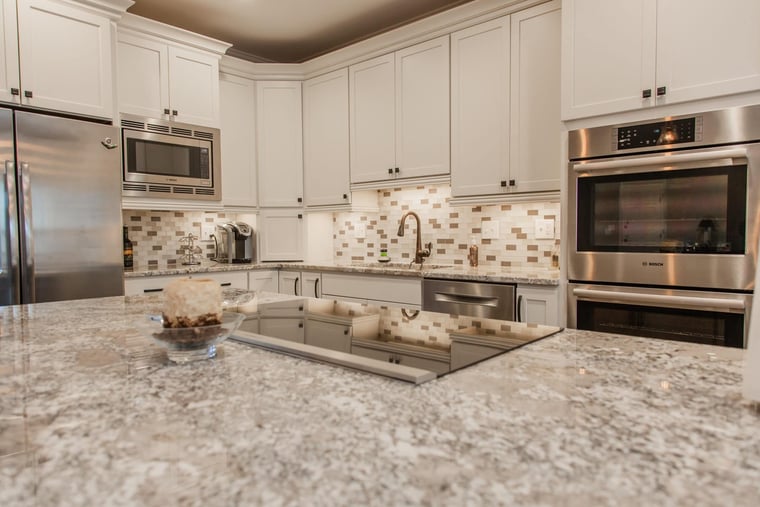 Textured Finishes
While sleek and polished surfaces have their charm, textured finishes are appearing more frequently in kitchen design, offering depth and tactile appeal to modern kitchens. Whether it's a hand-scraped wood countertop, a hammered metal sink, or a beadboard backsplash, these textures introduce a layer of sophistication and organic touch. They can make the space feel warm, inviting, and well-lived-in. The juxtaposition of smooth, state-of-the-art appliances with textured finishes gives kitchens a balanced and timeless look.
Dedicated Beverage Stations
A trend that's both convenient and luxurious, dedicated beverage stations have become a sought-after feature in modern kitchens. Perfect for those who entertain often or simply enjoy a well-crafted drink, these stations are designed to house coffee machines, wine fridges, soda streams, or even cocktail mixers. With neatly organized mugs, glasses, and all your favorite brews or blends, morning coffee routines or evening wind-downs become a sophisticated experience. Coupled with under-cabinet lighting and glass-fronted cabinets, the beverage station isn't just functional; it becomes a focal point, celebrating the art of beverage-making. For families, it's also a way to keep traffic away from the main cooking area, especially during busy morning rushes.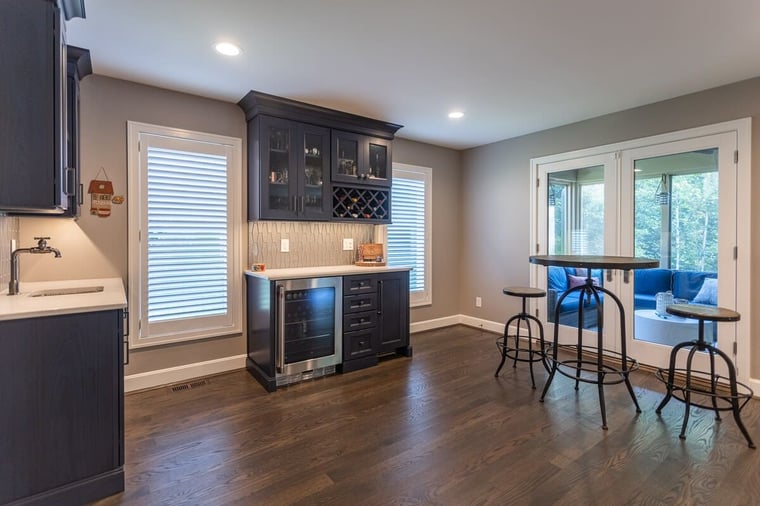 With these modern features at your fingertips, a kitchen remodel can truly revolutionize your home, combining the best of aesthetics and functionality. If you're considering enhancing your kitchen space, Legacy Builders Group is here to guide and execute your vision. Reach out to us for unparalleled remodeling services.