About the Company
Legacy Builders Group has been Cincinnati's choice for trusted, quality remodeling for generations. Our team of professionals promises well-planned, smooth, and successful building experiences rarely found in the industry — and we keep our promises. If you're ready to remodel your Cincinnati, Ohio home, we have the experience, professionalism, and creativity to help you get it done.
Our company principals, Chris Otte and Bill Haussler, bring decades of broad experience and a focus on doing the right thing for every homeowner, every time. Their ethics-based leadership was crafted from growing up in family businesses. Now, this integrity is matched by a passion for home remodeling you'll experience with every interaction.
When you choose Legacy, you're guaranteed a quality, client-focused, and completely custom experience — it's all part of the Legacy Builders Group Promise.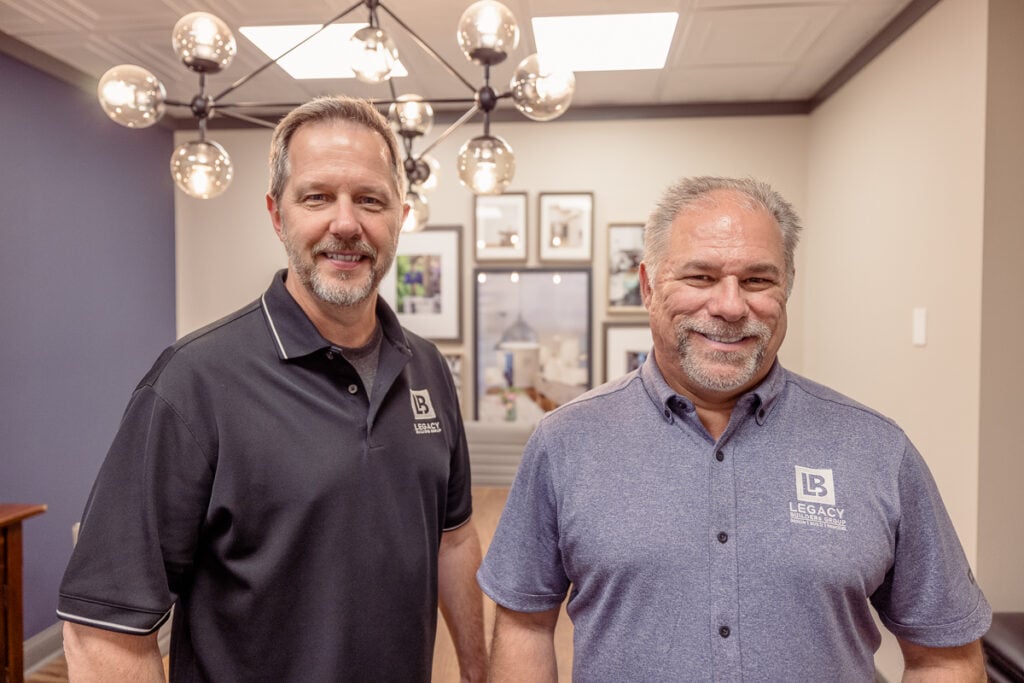 Chris Otte and Bill Haussler, Company Principals
The Legacy Builders Promise
We've spent years developing our Legacy Builders Promise to Cincinnati homeowners, and we hope we'll earn your trust with the following assurances:
We're Client Focused
We promise to conduct business with great attention to you, your family, pets, and neighbors. From the planning and design stage all the way through to the completion of your project, your positive experience is paramount to us.
We'll Advocate for You
We will use our years of training, experience, and resources to serve and advocate for you. We'll ask the tough questions to help you think through a design or selection decision and counsel you on the best way to remedy an issue with your home before, during, or years after the construction of your project.
We Build to Budget
The Legacy Way design-build process assures that what you signed up for at the start of your project is delivered to you upon completion. On-time and on-budget are two values our clients love most about Legacy Builders Group.
THERE'LL BE NO HIDDEN COSTS
We are realistic with you from day one about your goals, budget, and the process it will take to achieve them. We'll never hide costs or deliberately create grey areas. If an unforeseen issue should arise during the remodeling process, we'll let you know and work together to remedy the situation in the best way for you.
YOUR PARTNERSHIP MATTERS TO US
We strive to create a trusting partnership with our clients, which is why we make the above promises to you first. We'll listen to your ideas, goals, and budget and work with you through our proven design-build process to accomplish your home remodeling goals.
You trust us to accomplish your dreams for your home, and we appreciate that trust.
Are We The Right Fit For You?​
Legacy Builders Group is a full-service design-build remodeling firm. We refer to our design build process as
The Legacy Way
Is Design-build the right approach for you?
Legacy Builders Group specializes in the design, planning and construction of:
Our Remodeling Specialities:
Discuss budgets
How much do you want to invest in your home?
There are a lot of factors that make up the cost of a remodeling project. We do not have a minimum or a square foot cost for doing construction. Every project we design and build are custom. Sometimes the budget you establish does not match the scope of work you desire for your project. Our team has the experience and expertise to help align design and scope with a targeted budget.
We are an award winning Cincinnati home remodeling company that produces high quality design and construction. We are realistic with you from day one about your project goals and your budget.
When do you want to start your project?
We may not be able to start your project at the desired time. The Legacy Way is a comprehensive design-build process. It will take some time to diligently design and plan your remodeling project. Our focus is on creating a project that fits our clients lives and preferences, now and in the future. We don't like to rush to construction and risk an imperfect project.
Are we the right fit?
SERVICE AREAS
Legacy Builders Group has a broad service area. To ensure the service and competitive pricing you deserve Legacy has created this service area where we know we can serve you well.
If you have been through one of these fine communities in and around Cincinnati:
Montgomery
White Oak
Hyde Park
Madeira
Indian Hill
Evendale
West Chester
Mason
You have likely passed a home designed and remodeled by Legacy Builders Group.
Not sure if you are in our service area? Please contact us.
DON'T TAKE OUR WORD FOR IT
Many of our clients have taken the time to tell others what they think about Legacy Builders Group. Check out Houzz, Guild Quality and Google to find out what they have to say.
VIEW CLIENT TESTIMONIALS