Choosing the Perfect Cabinets For Your Kitchen
Your cabinets organize and contain everything you need for kitchen success. Your cabinet doors often make up the largest surface area on your kitchen's walls. What's facing you when you face the day? If you're tired of looking at someone else's idea of luxury, long-dated, or dreaming of a new style to take your kitchen into new style territory, it's time to talk cabinets for your Cincinnati kitchen remodel.
When remodeling your kitchen, you have the perfect opportunity to install new cabinets. If you think adding new kitchen cabinets is a great idea, we are here to help you make the right choice with the tips below. After all, these kitchen cabinets will help create a kitchen that you love and which reflects your personality and style.
Cabinet Door Style Options
This might seem like a no-brainer, but it's possible to settle for underwhelming cabinets because you are overwhelmed with other details when remodeling your kitchen. However, it's important to consider the theme and style you want for your kitchen during every step of your design journey.
Kitchen cabinets have to fit in with the overall plan of the house. Your designer might have ideas that can upgrade your look and preserve continuity throughout your home, no matter when it was built. Gather photos of cabinets that catch your eye online, and pay special attention to common themes you love. You can start anytime, long before it's time to remodel! Who doesn't love a good online design board?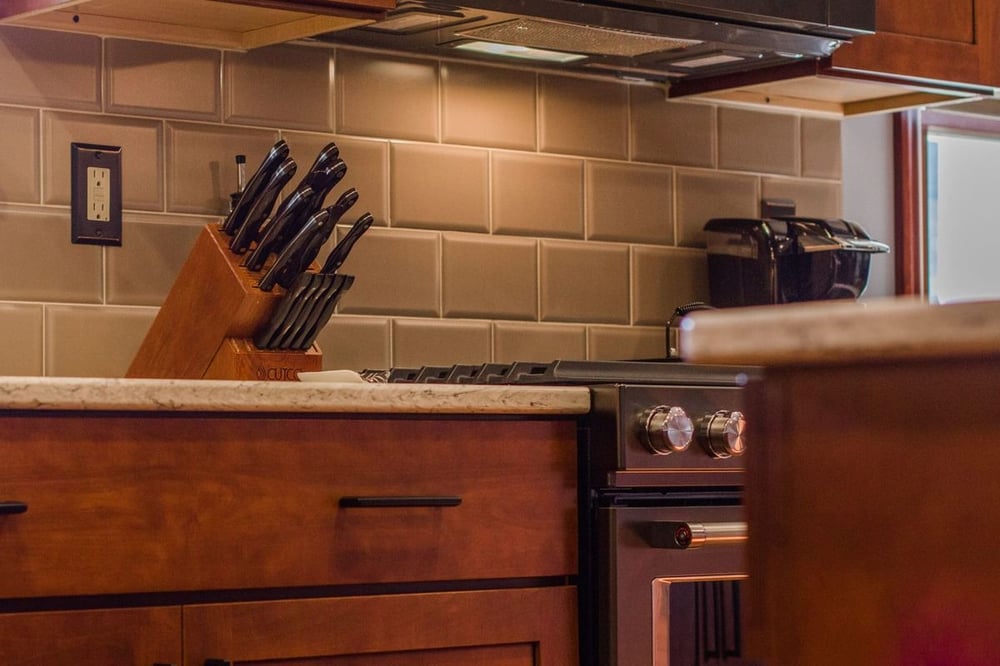 Consider Contemporary Design
Many of the latest kitchen cabinet designs feature a sleek look that suits many modern homes. Contemporary slab cabinet door designs also improve the functionality of handless kitchen cabinets that have push-open and close designs instead. Another option is recessed cabinet pulls that still give you something to hold onto when opening and closing your cabinets while allowing you to maintain a sleek design. This is a great way to incorporate technology into your kitchen cabinets and enjoy the convenience and improved functionality. You can also add sleek pulls to modern kitchen cabinet doors for a flashy finish.
Classic Cabinets for Timeless Kitchen Style
Classic kitchen cabinet styles, like shaker doors with wide square framing around an inset panel, or other more traditional kitchen cabinet styles might be right for an older home or a remodel where you're channeling timeless style. Choose classic hardware and complementary light fixtures and plumbing to complete the look!
Wondering what a kitchen remodel costs? We break it down here.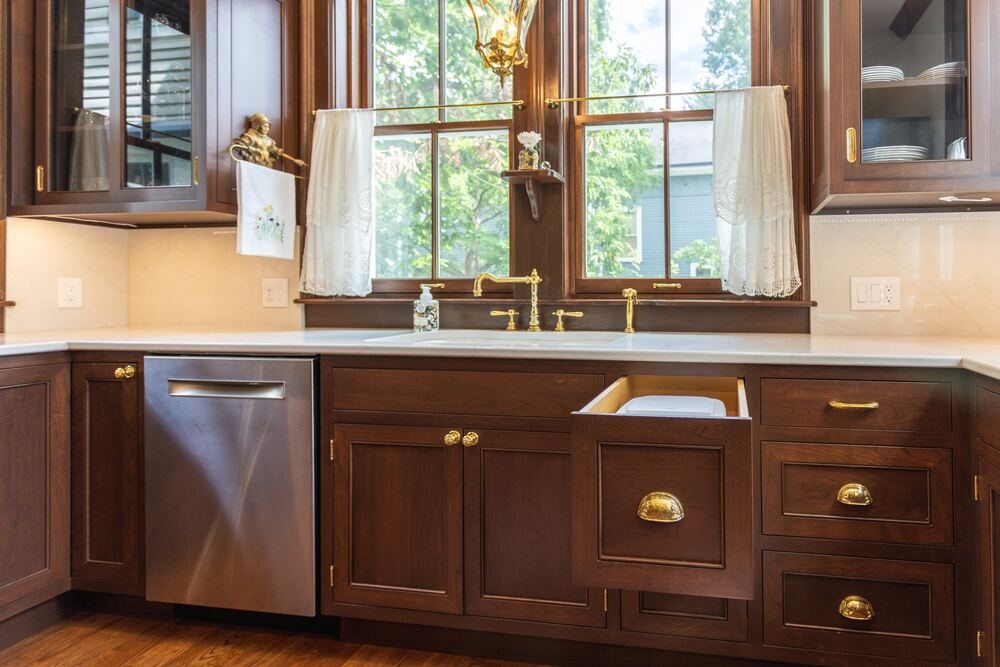 Custom Cabinet Ideas
Add More Color to Your Kitchen
Cabinets are a great way to add more color and personality to your kitchen. Many homeowners use bolder and brighter colors when adding cabinets. Currently, warmer earth tones and pinky hues are popular for kitchen cabinets. See Sherwin Williams' color of the year, Redend Point, and Pantone's Viva Magenta for great examples. Consider two-toned cabinets if you're not quite ready for bold kitchen color everywhere. This is an especially great idea if you want to inject a mood that won't overwhelm the rest of the room. Additionally, it's possible to refresh your kitchen down the line by repainting your cabinets when you get the itch for something new. Cabinet decorating ideas continue to evolve.
Get Vertical
In smaller kitchens or when storage demand is high, make extra use of vertical space for kitchen cabinets. Your custom kitchen design can include floor-to-ceiling cabinets, as this maximizes the space you have to store your kitchen gear. You will appreciate this extra space and you can make life easier by storing items that you use infrequently higher up the shelf.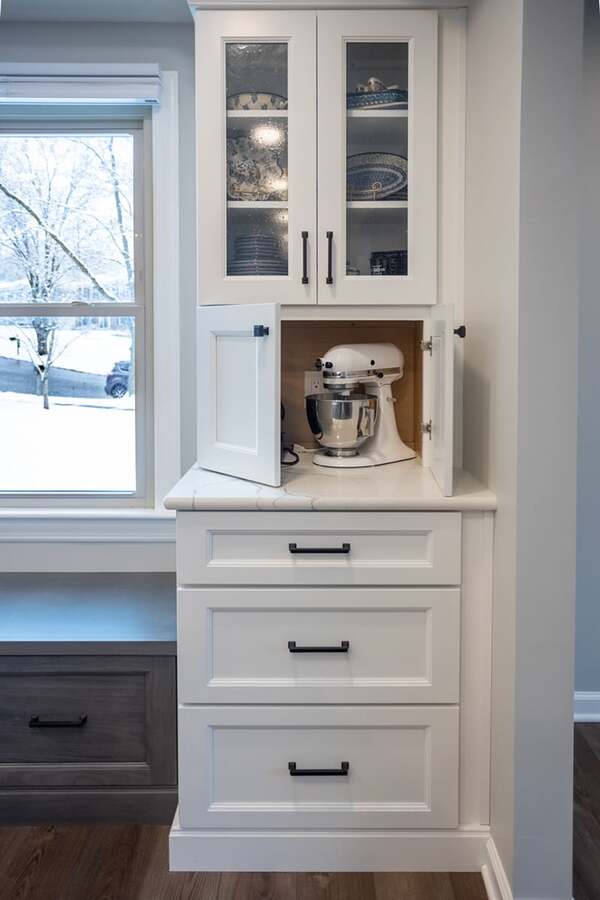 Custom Storage
Your kitchen remodel in Cincinnati is an opportunity to get elements that work for you. This means you can create a storage solution for every appliance and item that tends to pile up on your current counters or get shoved somewhere less than ideal. Here are some of our favorite ideas for custom cabinets.
Baking Sheet Storage (tall and skinny)
Super Susan or Lazy Susan
Compost Drawer
Wine or Can Pull-outs
Toe-Kick Storage
Pull-out Spice Rack
Pull-out Pet Bowls
Display Cabinets With Custom Lights
Your Home is Our Legacy
The kitchen is the heart of the home and having the right kitchen cabinets is an important part when it comes to creating the right look and feel. Legacy Builders Group of Cincinnati, Ohio has the insight, experience, and design-build expertise to help you take your kitchen from the frustration of today to the bliss of tomorrow with a remodel. We can't wait to get started. Let's talk!