What Remodelers Can Do to Improve the Value of Your Home
There's more to home remodeling than simply changing its appearance. As homeowners often discover, remodeling is a strategic approach to enhancing both property value and the overall functionality of the space. The transformative power of a successful renovation lies not just in aesthetic enhancement but also in the structural and functional improvements that come with it. Strategic remodeling will change your life. At Legacy Builders Group of Cincinnati, we understand the intricacies involved in the remodeling process and devote our profession to executing results that exceed expectations.
The Importance of Consulting Professionals
Embarking on a home remodeling journey without the guidance of seasoned design-build professionals can lead to missed opportunities and potential pitfalls. The value of professional remodelers goes beyond just craftsmanship; it's also about their deep understanding of evolving market trends, technical expertise, and an eye for detail. Professionals from Legacy Builders Group bring a wealth of knowledge about home upgrades that genuinely add value. Whether it's incorporating modern design elements or ensuring that every change made is aligned with the home's character, trusting experts is the way to guarantee results that stand the test of time.
The Kitchen is the Heart of the Home
Often dubbed the heart of any home, the kitchen is where families gather, meals are prepared, and memories are made. With its central role in daily living and entertainment, it's no surprise that many homeowners prioritize kitchen renovations to correct dated features and poor flow. A well-designed and functional kitchen can do wonders in elevating the overall atmosphere of a home.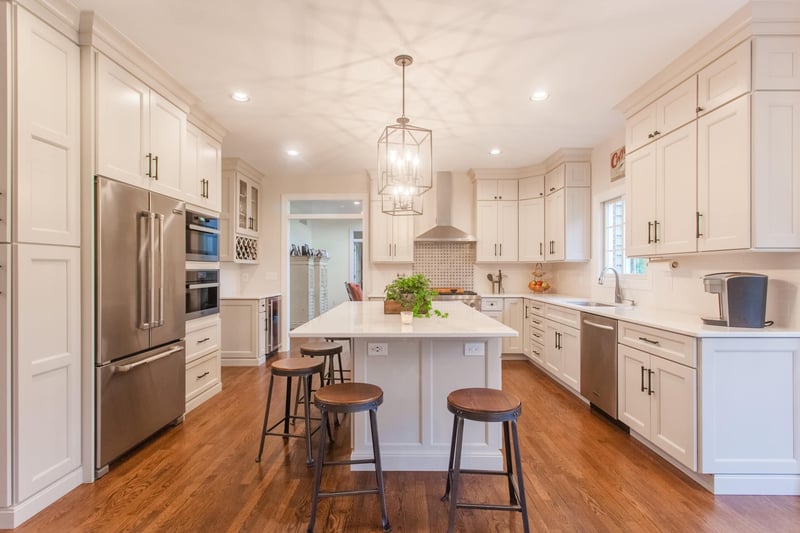 Kitchen Cabinet Upgrades
When it comes to kitchen remodeling, cabinets frequently take center stage. Their prominence and functionality make them a prime upgrade candidate, offering storage solutions and aesthetic appeal. But it's not just about replacing old cabinets with new ones. Trends have evolved, and updates to your cabinets can give your kitchen an entirely new life. Homeowners now opt for designs that reflect their personality, selecting a wider array of cabinet colors, door styles, and handles.
Turning Your Bathroom into a Modern Oasis
In home upgrades, the bathroom often holds significant weight, directly affecting how modern and luxurious your property feels. At Legacy Builders Group, we've observed a strong shift towards bathrooms that don't merely serve their primary function but also offer a spa-like ambiance. Imagine soaking in a freestanding tub, surrounded by ambient lighting and perhaps even soft music. Modern homeowners are showing a penchant for rain showers, touchless faucets, and even voice-activated mirrors. The shift to heated floors ensures those cold winter mornings are met with warmth beneath your feet, and heated towel racks guarantee a snuggly wrap after every shower.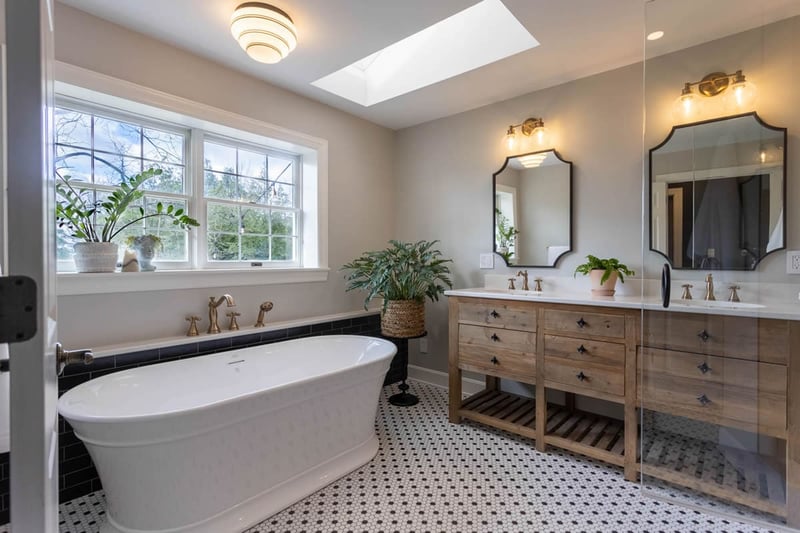 Lighting: More than Just Illumination
The magic of proper lighting can't be overstated. Beyond the basic function of illumination, the right lighting fixtures breathe life into spaces, creating ambiance, highlighting architectural details, and even influencing moods. Contemporary trends are leaning towards a blend of functionality and aesthetics. Recessed lighting, for instance, offers a minimalist appeal and is ideal for kitchens and living rooms. On the other hand, chandeliers exude opulence, making them perfect for dining areas and grand entryways. Energy-efficient options, such as LED fixtures, marry sustainability with modern design. For those who prefer a touch of vintage, Edison bulbs provide that nostalgic glow. We champion adding layered lighting – combining ambient, task, and accent lighting – to curate the perfect atmosphere for every room.
Flooring: The Foundation of Your Aesthetic
The first step into a home can leave an unforgettable impression, and flooring plays a pivotal role in crafting that experience. Old, stained, or damaged floors can detract from even the most beautiful home interiors. As the literal foundation of your home's aesthetic, flooring choices should resonate with both functionality and design sensibilities. The trend today isn't just about choosing hardwood or carpet; it's about diving into the nuances of each type. For instance, luxury vinyl plank flooring has gained popularity for its durability, water resistance, and uncanny ability to replicate the look of wood or stone. On the other hand, hardwood remains an evergreen choice, imparting warmth and a timeless appeal. Ceramic tiles, especially those with intricate patterns, can add a touch of artistic and durable elegance to bathrooms and kitchens.
Wondering what a kitchen remodel costs in our service area? We break it down here.
Adding Outdoor Living Spaces
More than ever, homeowners are recognizing the allure of extending their living spaces outdoors. The boundaries between indoor comfort and outdoor relaxation are blurred, and the results are stunning. From meticulously crafted patios adorned with plush furniture to outdoor kitchens ready for a summer barbecue, the options are exciting and endless. But it isn't merely about aesthetics; an inviting outdoor space can also be a haven for relaxation and socializing. Picture yourself enjoying a morning coffee on a deck surrounded by the soft chirping of birds or hosting an evening soiree beneath a pergola draped in twinkling lights.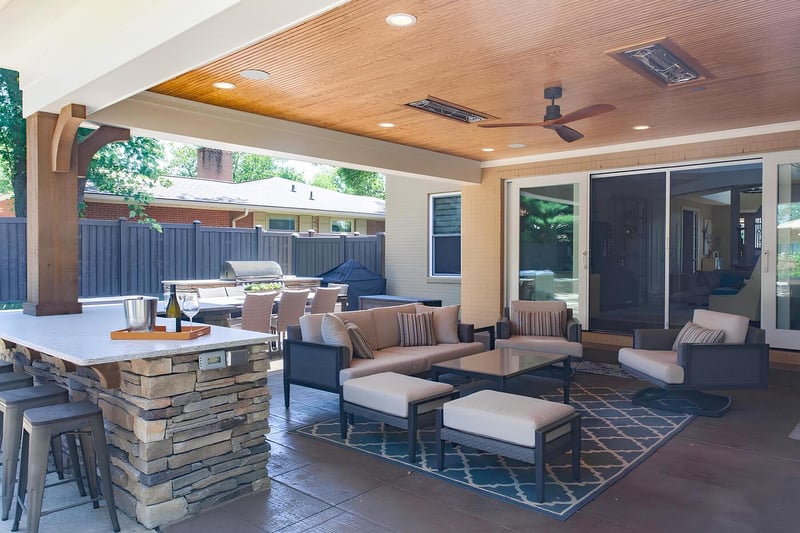 Common Remodeling Mistakes to Avoid
As enticing as home remodeling sounds, it isn't without its pitfalls. One common mistake we've noticed is homeowners opting for what's trendy now without considering the longevity of that choice. For instance, while avocado-colored appliances might have been the rage in the 70s, they quickly became dated. Another example is selecting materials that might look attractive but aren't suitable for the specific conditions of a room, such as choosing a porous stone for a kitchen countertop that's susceptible to stains. Overlooking adequate storage solutions, especially in spaces like the kitchen or bathroom, can result in cluttered spaces that undermine the beauty of the remodel. And don't even get us started on poor lighting choices—ill-placed lighting can cast shadows in work areas or fail to highlight the room's best features.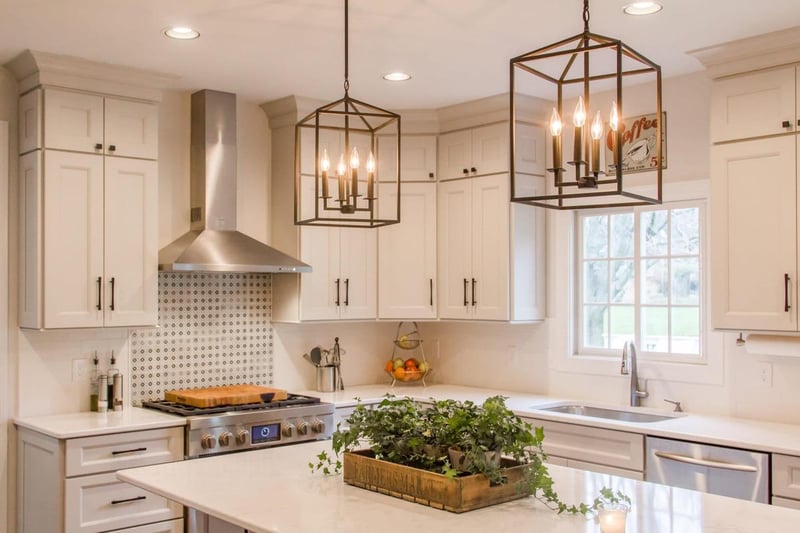 Hiring professionals at Legacy Builders Group can be a safeguard against these potential pitfalls, ensuring that your remodeling project not only captures your vision but stands the test of time. Whether you're contemplating a kitchen revamp, a bathroom oasis, or an outdoor sanctuary, our experienced team is here to guide and support you every step of the way. Don't wait for 'someday'; let's start your home transformation journey today. Reach out to us to discuss your project and discover how we can make your home dreams come true.