Imagine a welcoming front yard patio where neighbors gather, conversations flow, and memories are made. Envision a stately portico that provides shelter and sophistication. Picture a perfectly designed outdoor living space with a stately covered approach with cedar beams, a textured concrete patio, landscape seating walls, and custom LED hardscape lighting. And don't forget the finishing touch – the rain chains.
The drama and majesty are undeniable in one of Legacy Builders Group's favorite recent exterior remodeling projects. We implemented a dramatic change to the exterior of the home with a unique outdoor front living area. For everyone wondering how to modernize an older brick home, this one's for you. There's nothing stuffy or boxy about this simultaneously playful and stately upgrade to a home's exterior facade in Symmes Township. We've built a welcoming outdoor space and are thrilled to show you how we did it. Let's have a look around!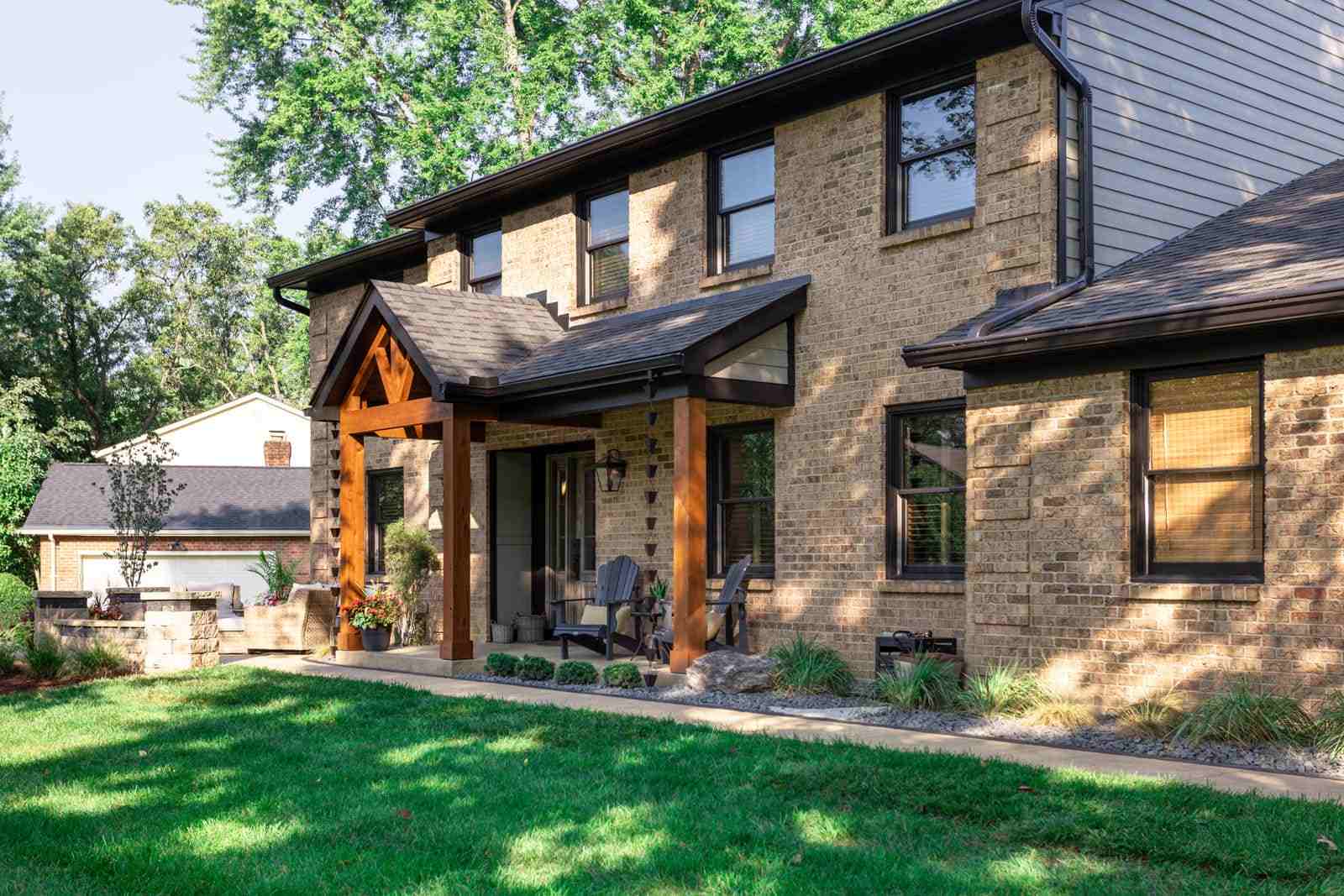 Front Yard Festivities
This vibrant and social family desired a face to present to the neighborhood that matched their sunny and playful character. We gave the facade of the existing home one heck of a facelift to create one-of-a-kind curb appeal. This very social family has great relationships with their neighbors, frequently assembling to share the latest news and enjoy each others' company. Gathering space at the front of the house is especially inviting, welcoming passing neighbors to join in on the fun. While backyard lounging space is more common, this unique front yard patio delivers everything on this client's wishlist.
Portico on Point
We created a stately approach where once there was a blank slate of open earth and sky. The newly covered approach features cedar wood columns and generous cedar headers whose generous proportions provide a sturdy and satisfying shelter for approaching guests, deliveries, and family members alike. We finished the wood porch roof with rich planks to offer texture and a polished finish from every angle. We upgraded the front door and surrounding siding to provide the welcoming statement befitting of such a stunning space. We married everything together with updated paint on the siding, trim, and widows for cohesive curb appeal. Matching exterior brick siding is always an adventure, but we love the way it turned out. In fact, one of the biggest challenges was finding the perfect new bricks and paint shade to complement the existing hue. Nothing less than stunning would do.
Patio Perfection
Our porch addition plans were full of goodies and extras! We adore this front yard outdoor living space. We began with a textured concrete patio, then added landscape seating walls for conversation and congregating. Built-in patio seating is one of our top must-haves for new outdoor spaces. We absolutely love the details in this patio stone wall. It was important that this space was equipped for an event at any hour, including custom LED hardscape lighting. A sprinkling of patio wall lights and inset LEDs ensures a romantic or practical option for every occasion for illumination. Landscaping around such a perfect patio is vital. We poured our outdoor living design expertise into the landscaping around this concrete patio to provide the expected appeal in a high-end outdoor hardscape. While the beauty of the landscaping is that it can be evolved and upgraded, a superb start was vital for the first day in this outdoor gathering space.
Rain on the Chain
We love spotlighting innovative materials and methods. Any time we can elevate the aesthetics and eco-friendliness of your property at the same time is a double win. For this project, we used decorative rain chains used in lieu of clunky aluminum downspouts. Rain chains are excellent alternatives to traditional downspouts, adding beauty and functionality to any outdoor space that includes them. Made from a series of linked cups or chains, they guide rainwater from a structure's gutters to the ground below, creating a mesmerizing cascade effect. A rain chain is both a perfect conversation piece and functional, attractive, and unique.
Legacy Builders Group and You, the Perfect Partnership
There's no reason to tolerate dated spaces that don't work for you. Whether your front yard needs a complete facelift or your kitchen needs to be brought into the modern age, it's time to consider the possibilities a remodel can provide. At Legacy Builders Group, we specialize in bringing dreams to life, just as we did for this vibrant and social family in Symmes Township. With our expertise and attention to detail, we can modernize your Cincinnati home with every element you currently lack.
So why wait? Contact us today to bring your vision to life. Together, we can create a Cincinnati home remodel that reflects your personality, enhances your experience, and provides a sanctuary for relaxation and connection. Experience the magic of a bespoke Cincinnati remodel with Legacy Builders Group. Your dream home awaits.