When it's time to transform outdoor living spaces in Cincinnati, OH, into something straight out of a dream home magazine, Legacy Builders Group is your go-to. For our latest project spotlight, we are featuring a classic Montgomery home with a striking covered front porch addition and façade transformation. What started as an ordinary ranch house exterior became an eye-catching blend of traditional and modern craftsman exterior architecture. We cannot wait for you to join us as we walk you through this spectacular transformation journey.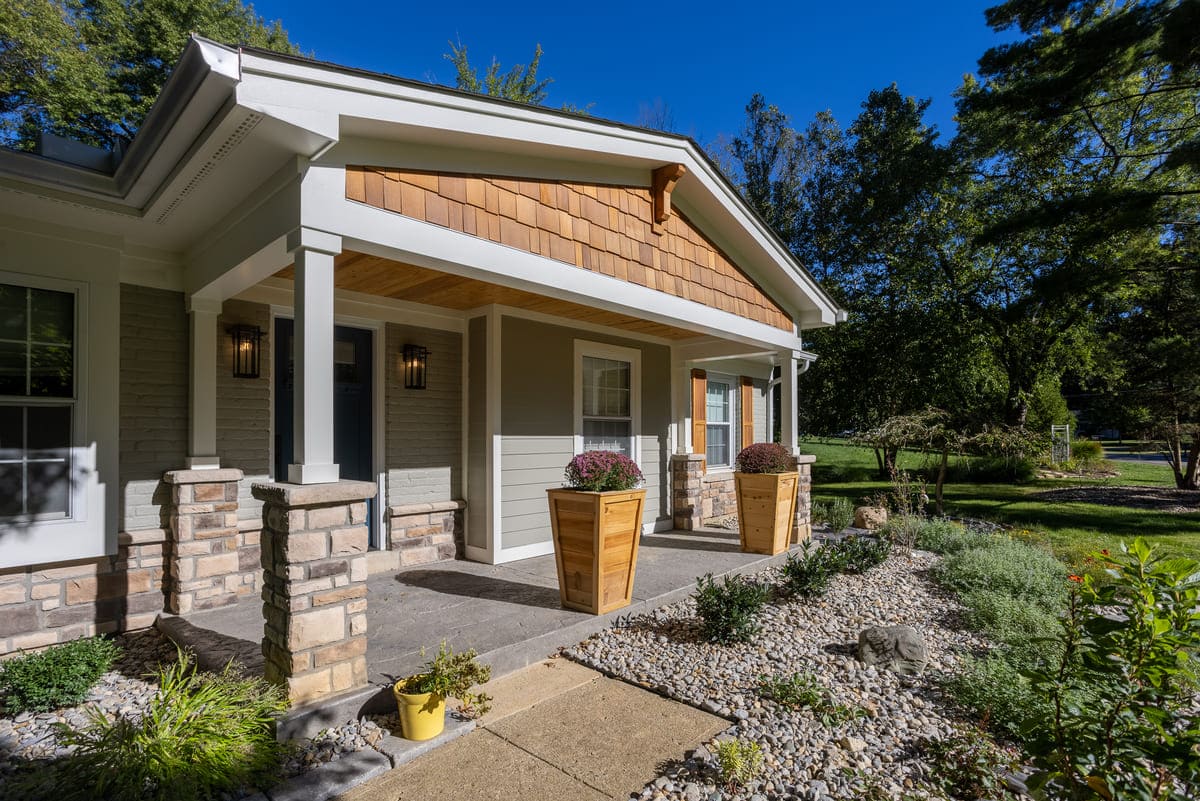 Our Clients' Priorities
Our clients were not looking for a simple exterior revamp; they had a specific vision in mind when we met. Their first goal was elevating the home's curb appeal by integrating elements of craftsman-style architecture into its overall design, freeing themselves from boring beige brick. The clients were not only focused on aesthetic appeal but also wanted an outdoor living remodel that would offer the family an enriched outdoor relaxation and entertaining experience right in the comfort of the home. This was not just about a new porch; it was about creating an inviting, enduring space that embodied the unique charm of craftsman architecture to welcome guests with a killer first impression.
Basic Elements of the Outdoor Project
The transformation we created was an elaborate process involving multiple components. One of the most captivating changes to this outdoor living remodel was the addition of a front porch with a unique gable roof. This new addition served as more than just a protective portico; it added an aesthetic element that enriched the home's overall design. To complement this, we installed new shutters and a front door, chosen for their style and functionality. We clad the facade in durable fiber cement siding, providing a perfect blend of durability and style and painted the rest of the brick to match. We accentuated the front porch roof with cedar shake siding, and stamped textured concrete paved the way to the entrance. The finishing touch was outdoor coach lighting, which we installed to provide both charm and functionality to the newly remodeled exterior.
Design Stage Challenges and Solutions
Every remodeling project has a few challenges, but we had to think before identifying one here. This project benefited from the extra time we spent in the design stages, where it was crucial to help the client visualize the transformative potential of the project. Thanks to modern 3D color rendering technology, we could walk together through various color palettes and styles, enabling informed decisions about the final vision.
Color Transformation
Color plays a vital role in setting the mood and tone of a space, and this home's exterior transformation was no exception. The initial colors were plain and somewhat uninspiring—beige brick and white vinyl siding that needed a revamp. The transformation brought in a warmth that was lacking before. Honeyed tones of cedar shake shingles shine below the roof line. The final winner of the great debate was fiber cement siding in a gentle light gray, and we painted the brick to match. We used natural stone color palettes for the stone veneers at the base, creating a harmonious blend that beautifully showcased modern craftsman architectural elements.
Their Vision, Our Skill
This project is an excellent example of how an innovative approach to outdoor living space can add significant value to a home. It goes beyond mere aesthetics to provide a functional, beautiful, and enduring living space in which homeowners can take pride, year after year. The transformation did more than just modernize the house façade; it breathed life into it by integrating classic craftsman-style elements like cedar shake siding and recessed porch lighting.
Curious about the cost of this home remodel or the project you've got in mind? Learn more about the cost of popular remodeling projects in our area and the factors that influence them with our complimentary remodeling cost guide.
Legacy Builders Group Can Make Your Remodeling Dream Real
Feeling inspired to make some changes in your own home? Our team of experts is here to guide you every step of the way. From design consultations to the final touches that make your remodel uniquely yours, we are committed to making your Cincinnati home upgrades as stunning as the one featured here. Contact Legacy Builders Group today to start your journey toward a magnificently transformed home.